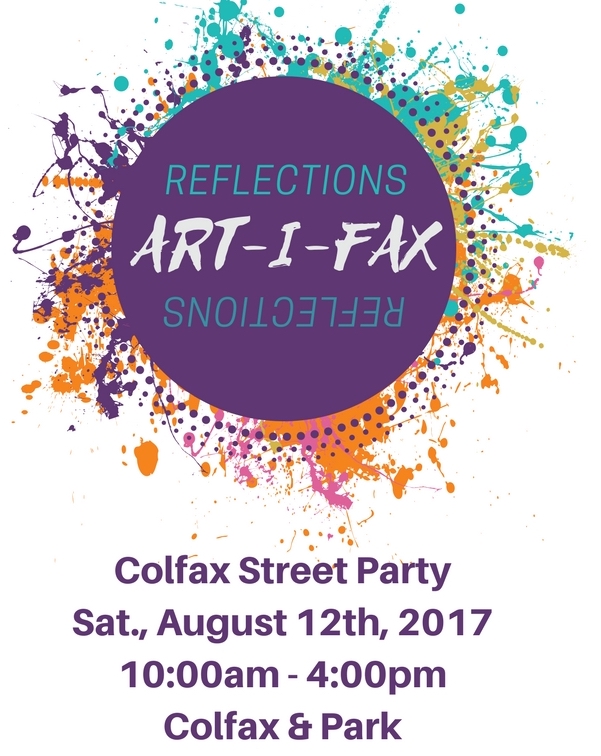 Join the Colfax Ave BID on August 12th for the 2nd Annual Art-i-fax Street Party! Help us celebrate Colfax through visual and performance art and enjoy local music, food, and drinks with your neighbors. We'll pay homage to the people and events that got Colfax to where we are, while also reflecting upon what kind of Colfax community we want to help create for the future.
Location and Inspiration
This year, Art-i-fax will be held at the intersection of Park and Colfax. We'll be shutting down Park Ave. from Colfax to Humboldt for the event. The location is inspired by our Streetscape Plan and will be part celebration, part demonstration to help the community experience the space as a plaza.
The street party will incorporate some aspects and programming that could take place if the space were eventually turned into a public plaza. We want to walk away from the event with a clear vision for what the community wants to see in a space like this, so we need your feedback!
Want to get involved?
Are you an artist that wants to showcase your work? Have a favorite local band, restaurant or artist you'd love to see at Art-i-fax? Are you a local business interested in being a part of Art-i-fax? Want to help us out with the planning or on the day of? Email Michelle at michelle@colfaxave.com with your suggestions or for more info!
Sponsorships
Check out our sponsorship packages here. If you choose the Wildcard Package, we'll put together a custom benefits package based on your sponsorship amount!