Colfax Works is a pilot project of the Colfax Ave Business Improvement District (BID) running from June-August 2018. The project provides employment opportunities (within the BID's boundaries) and supportive services to help provide a path to independence and stability for those experiencing homelessness.
Crews work Tuesday-Friday, 7am-1pm and assist with trash/graffiti removal, power washing, and small landscaping projects within the BID's boundaries (Grant to Josephine, 14th to 16th). Team members receive important supportive services such as case management and life skills resources.
Want to get involved?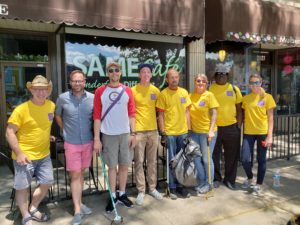 We're looking for businesses or individuals willing to donate lunch to the workers (4 individuals) once per month for June, July, and August. If you're a retail shop, bank, or other establishment that doesn't serve food, you can "sponsor" a lunch for the crew at a nearby eatery. Not only will you be providing a meal, but you'll be helping our crews connect with the greater Colfax community and take pride in their work.
Interested? Email Michelle at michelle@colfaxave.com.
Thank you to those who have already signed up!
The Why
Colfax is a place where all are welcome. It is also a place where a dense residential and commercial population intersect with social service providers, crime, people experiencing homelessness, and mental illness. We also have the District 6 Police Station and many communities of faith within or just outside our boundaries.
The BID has identified a need to further invest in our community by providing opportunity to those who may not be given the chance otherwise. We believe that a workforce development program on Colfax will help to end the cycles of homelessness and criminal recidivism experienced by so many in our city. The long-term vision is to turn it into a permanent year-round program. The Colfax Works program was inspired by DC-based Ready, Willing & Working (RWW).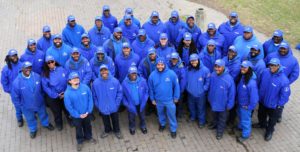 The How
The BID is partnering with local nonprofit Bayaud Enterprises to execute the pilot, who won the bid after an extensive interview process. Bayaud is the organization behind the City's successful Denver Day Works program and has over 40 years of experience helping people with barriers to employment find sustainable work.
Partners
Advisory Committee
In order to get the best start on this project, a strong Advisory Committee for the Colfax Works pilot project is essential to the success of the program. The committee's expertise and perspective will help guide the project with strategic direction and feedback.
Michelle Valeri (Chair), Colfax Ave Business Improvement District
Frank Locantore, Colfax Ave Business Improvement District
Councilwoman Debbie Ortega, Denver City Council (At-Large)
Emily Lapel, Aide to City Council President Albus Brooks, District 9
Joanne Greek, Office of Economic Development
Grace Ramirez, Agency for Human Rights & Community Partnerships
Jamie Rosenberry, Open Door Ministries
Jack Curtin, Front Range Services
Vicky Hales, UMB Bank and Colfax Ave BID Board Member
Ron Vaughn, Argonaut and Colfax Ave BID Board Member
Yvette Freeman, P.U.M.A. and Colfax Ave BID Board Member