The Streetscape Plan serves as our road map for enhancing the Colfax character, activating the street to make it more of a destination, increasing property values and commerce, and supporting crime prevention through intelligent environmental design efforts. So, how are we going to fund this $10.5M project? The BID will utilize multiple sources of funding to complete the project, which will require support from the city and our stakeholders. Here's the breakdown.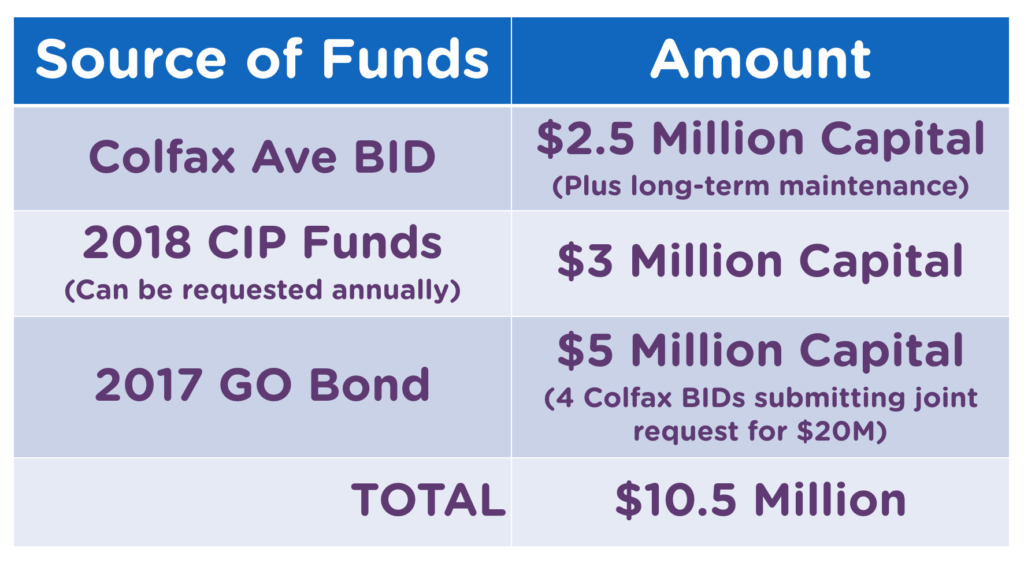 The City of Denver's 2017 General Obligation (GO) Bond includes $20M to the four Colfax BIDs with the Colfax Ave BID receiving at least $5M from that for the Streetscape Plan. We've already begun applying for funds from the annual City of Denver Capital Improvement Program (CIP), anticipating a total of $3M to close the gap.
The City is looking for a local commitment to support capital improvements and long-term maintenance from the neighborhood to move forward. By putting BID money on the table, our project has a greater chance of becoming a reality.
 
THE BID'S ROLE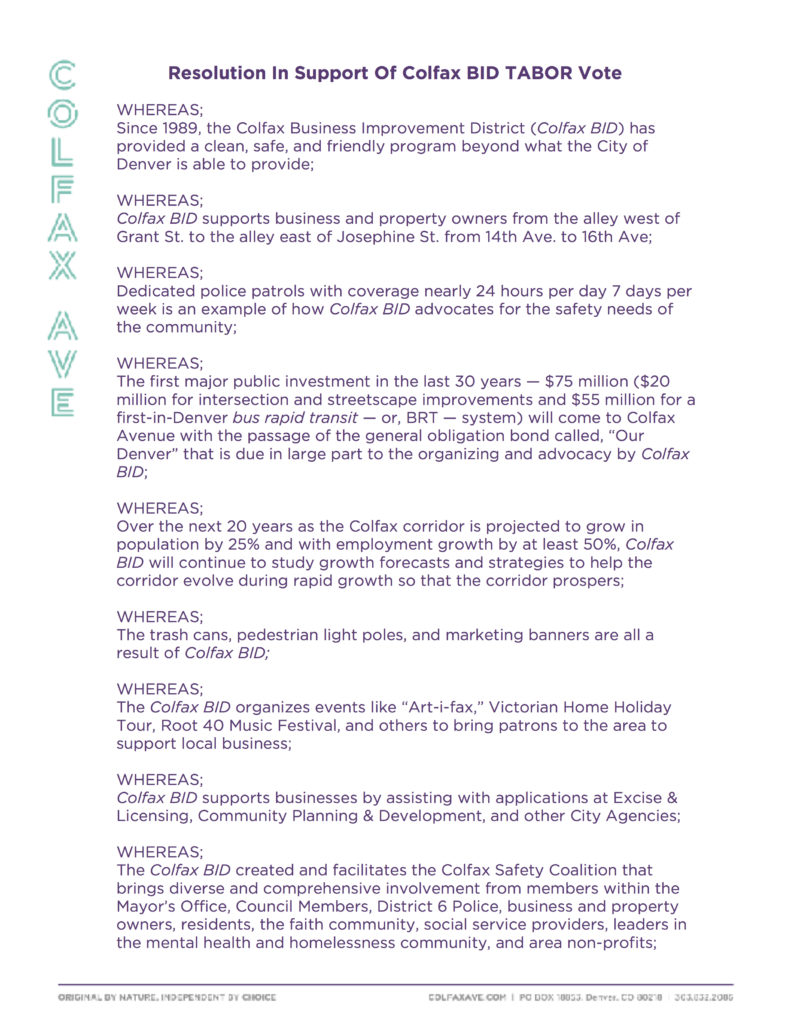 While the GO Bond and CIP funding is a good start and will fund 75-80% of the Streetscape Plan, the BID will need to invest in the project to make it happen. The Colfax Ave BID will need to put forward around $2.5M through an expansion of the BID's funding capacity.
Amending the mill levy from 7.846 mills and capped at 11 mills, would be at most a 3.3% increase on your overall property tax bill. This will generate enough funds to cover operations, debt service, and raise $2.5M that will be paid back over 30 years. Stakeholders play a role in shaping how the corridor evolves and maintains its unique character. Securing full funding to complete the master streetscape design plan will allow Colfax to compete with the other commercial areas of Denver that are rapidly developing. It's worth noting that the Colfax Ave BID's mill levy has not been raised since its inception in 1989 and is lower than many other Denver BIDs.
If you would like to know the financial impact the mill levy increase would have on your business or property, please email Frank Locantore at frank@colfaxave.com. We are happy to provide the exact numbers for you.
YOUR ROLE: VOTE!
In order to fund this project through an amended mill levy, a TABOR election of Colfax Ave BID Stakeholders will take place in November of 2017. Click here to learn more about the process.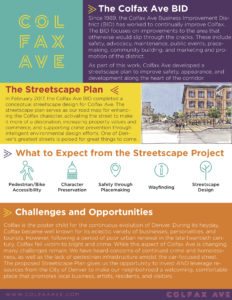 WHO CAN VOTE?
You can vote if you are a registered voter in the state of Colorado and own a business or property within the Colfax Ave BID boundaries. If your business or property is in your own name, you will automatically receive a special ballot in the mail.
If your business or property is incorporated as an LLC or another classification that is NOT your personal name, then you need to designate a real person as your "elector" who is registered to vote in the state of Colorado. To designate yourself or some other registered voter, you need to fill out and return this Designation of Elector form.
Please email Executive Director, Frank Locantore, at frank@colfaxave.com with any questions.