The Colfax Ave BID Master Streetscape Plan has eight Design Principles, the first principle — Tell The Story — was outlined in our February newsletter. The second principle is "Keep It Simple":
"The streetscape design should be kept simple. A consistent and even sidewalk that is widened where possible, particularly at the corners, is a primary goal. Materials should not be overly detailed or lavish. Rather, they should be timeless."
Colfax is unpretentious. While doing outreach to get community feedback, we gathered over 500 bits of data through nine focus group sessions with various area stakeholders, online surveys, and community events. It was clear that the neighborhood wanted Colfax to reflect the very simple and genuine nature of the people that live and work here.
How does the keep it simple principle come to life on Colfax with the streetscape plan?
There are several streetscape elements to highlight as an examples. The first is our new logo: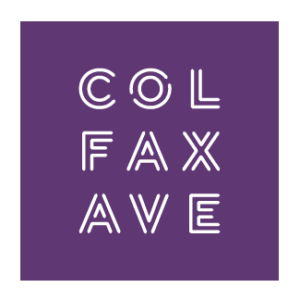 It is simple in several ways. The font has no "serifs" or other "flourishes" to the letters and is merely the name of the street. The design element that it does have is to mimic the timelessness of neon signs that used to be more prevalent than street lights in the corridor. Our color palette reflects the rising and setting of the sun on the east-west orientation of Denver's most famous street.
Other manifestations of the keep it simple principle include our approach to art, sidewalks, trees, benches, and bike racks. Soon East High School students in the Art Honor Society will be repainting the utility boxes on Colfax to bring some local stories and home-grown art to Colfax.
Our sidewalks won't be fancy "patterned" impressions, but simple concrete that is easy to maintain. We're exploring where, when, and how to plant native tree species on the corridor that can thrive in our high plains environment and urban setting. Benches and bike racks will be designed for their primary purposes and will include our simple logo.
In 2018 we plan to implement some of these elements as resources permit. We also need to be mindful of the intersection safety improvements and bus rapid transit that the City of Denver will build in the next few years. We don't want our installations to be negatively impacted or destroyed in when the city makes their improvements.
If you have any questions please contact executive director, Frank Locantore: frank@colfaxave.com.