The Colfax Ave Streetscape Plan, created by studioINSITE, in partnership with ArtHouse Denver, Centro Group, our advisory council and Colfax Ave BID board, provides a strategic plan for Colfax Improvements, including safety implementations, branding, and building guidelines.
We know that Colfax Avenue holds a special place in the hearts of many and we spent countless hours working with our stakeholders, business and property owners, residents and friends to create a plan that provides enhanced safety guides, respects the historic nature of the street and improves the pedestrian experience, all while keeping our independent and original street thriving.
The ideas in the Streetscape Plan are conceptual and based off of over 500 points of data that were collected through various focus groups, stakeholder meetings, events, and online surveys over the past year. We have been in contact with our stakeholders throughout 2017 and held four public information sessions in June regarding the Streetscape Plan and upcoming election. These sessions continued through August and September.

Click here or on the image below to view the Streetscape Plan in its entirety, or choose from one of the chapters below. To learn more about how the Streetscape Plan will be funded, click here.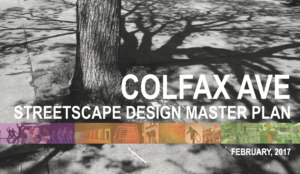 Save